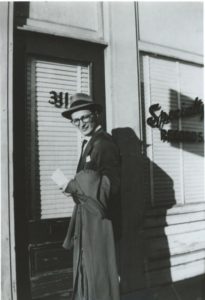 Arthur N. Rupe was born Arthur N. Goldberg on September 5, 1917 to a Jewish working-class family in Greensburg, Pennsylvania, and grew up in nearby McKeesport—part of the Pittsburgh metro area. His father was a factory laborer and immigrant from the Austrian province of Galicia; his mother, a housewife, was born in Pittsburgh, Pennsylvania. He graduated from McKeesport High School in 1935, and attended Virginia Tech and Miami University (Ohio) before graduating from UCLA with a degree in Business Administration.
Several years prior to leaving for California, Rupe's paternal grandfather had told him that Goldberg was the name he had adopted when disembarking at Ellis Island, and that Arthur's true ancestral surname was Rupe. Thus, since 1939 when Rupe arrived in California, he has been known as Arthur N. Rupe.
During World War II, Rupe worked on an engineering crew at California Shipbuilding on Terminal Island, testing Liberty ships prior to acceptance by the U.S. Maritime Commission.
In March 1944, he invested $2,500 in Premier Records, a small company that recorded and marketed Nat King Cole and Frankie Laine records. Four months later his investment had shrunk to $600, and Rupe sold his interest.
Shortly thereafter, Rupe decided to accept the challenge of starting his own record company. A market survey he conducted of the numerous retail record shops in the Los Angeles area indicated that the major recording companies were not meeting buyers' demands for "race records"—typically made by and for African-Americans. In late 1944, with Ben Siegert, who had recently been discharged by Premier Records, he formed Juke Box Records to cater to the market vacuum his research had perceived.
Growing up in an ethnically diverse neighborhood in McKeesport, Rupe had developed an interest in rhythm 'n' blues and gospel music. However, in order to educate himself in the technical and commercial attributes of production, Rupe invested $200 in representative records of this genre, a record player, a metronome, and a stop watch. He methodically analyzed all aspects of these records, including the musical and lyrical structure and titles. Rupe then produced his first record "Boogie #1" on a low budget with only three musicians. The record sold over 70,000 copies, a regional hit at the time. In order to expand, his small company enlisted other partners, but after a year, Rupe broke with them. In September 1946, he started a new company, Specialty Records.
Over the next fifteen years, Specialty Records became one of the most prominent independent record companies enjoying worldwide distribution of its records, which included artists Rupe developed like Roy Milton, Percy Mayfield, Joe and Jimmy Liggins, Lloyd Price, Larry Williams, Little Richard, and Sam Cooke, among many others. Specialty Records' music publishing subsidiary, Venice Music, was equally successful in having its music copyrights recorded by many prominent artists such as Elvis Presley, the Beatles, the Rolling Stones, and others. By 1990 Specialty Records and Venice Music had been sold, and Rupe left the music industry.
In 1952, Rupe had begun to invest in oil and gas production. Several years later, he started his own company, Artex Oil Company, with offices in Wichita Falls and later in Abilene, Texas. In 1992, Rupe moved his oil and gas interests to Marietta, Ohio, and entered into a partnership with Jerry James and Gene Huck.
Rupe's success in the energy business has enabled him to found and endow the Arthur N. Rupe Foundation in Santa Barbara, California, a proactive, entrepreneurial 501(c)(3) grantmaking philanthropy in which he, along with a dedicated staff, devotes most of his time and interest.